Halloween Party 2017 Buffalo, NY
HALLOWEEKEND BASH 2017
JOIN US FOR OUR 4th ANNUAL HALLOWEEN PARTY!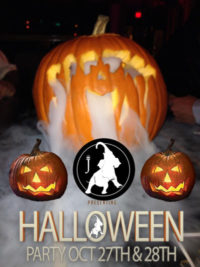 4th Annual Hall-O-Weekend Party
Mark Your Calendars for a Spooktacular Weekend of fun! Because we have a weekend to celebrate Halloween we have two full nights of spooky fun! On Friday October 27th starting at 8PM we are hosting a Hallo-Eve Party! We will have a free buffet of Halloween inspired foods starting at 8, along with spooky, bubbly Halloween happy hour drinks from 4-9pm. The weekend party doesn't end with Friday, because Saturday we have an even spookier party planned, with a crazy Halloween themed contests all night long! Costumes are encouraged with a $200 contest winner being declared both nights!